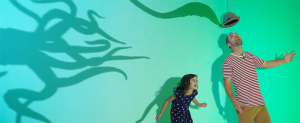 Te Papa's revamped exhibition about the natural world combines cutting-edge science with mātauranga (Māori knowledge), and schools outside the Wellington region can explore it virtually online. Most of the exhibition is new, although two favourites remain – the colossal squid and a revised Earthquake House.
Virtual visits are available for years 3 to 13, last one hour and cost $50. Using Zoom, students can ask questions of a Te Papa educator walking through the exhibition with a stedicam, request close-ups and influence the focus of the tour. Virtual visits run before the museum opens from 9-10am, and booking is essential. For local school visits the museum also offers a one-hour Nature programme and a two-hour Earthquake encounter.
Stand-alone, school-based education units about the natural world are still being developed, linked to the NZ Curriculum and Te Marautanga o Aotearoa; they will be made available on the website.
See the educators' webpage or email learning[at]tepapa[dot]govt[dot]nz